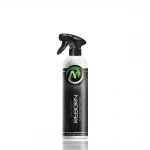 Reborn – 500ml
14,99 €
Description
Additional information
Reviews (0)
Description
Why Reborn?
When preparing paintwork for the final stage whether it be wax, sealant or ceramic coating the importance of ensuring the surface is as decontaminated and smooth as possible is essential. Reborn removes any oils, grease, wax, or sealants which may lay on the surface of paint, glass or any exterior surface without any abrasives. Unlike Isopropyl (IPA) which cleanses the surface but can still redeposit oils on the surface Reborn will totally eradicate them leaving behind a surface as fresh and cleansed as it was the day it was created.
Reborn makes cleansing surfaces effortless with its spray on buff formula minimizing the amount of contact you make with the surface.
Key Benefits
Outstanding all surface cleaner
Cuts through a variety of contamination with ease
Will not stain or leave any residue behind
Strips the surface of waxes and oils ready for the LSP
Great dilution ratios
Tackles oils, wax and sealants with ease
NO toxic odours
Highly economical
Car Care Advice
Pre wax cleansers are essential before applying the LSP to your paintwork, the surface must be ideally prepared if the LSP is to be at its best. The paint should be clean and dry prior to applying Reborn.
Direction For Use
Wash and dry the paintwork thoroughly
Dilute Reborn with clean water 3:1 ratio
Spray directly onto the desired area and gently agitate with soft applicator or wash mitt
Work the product into the surface
Once the vehicle is cleansed rinse it with water and follow by washing it with non wax shampoo " Bling "
Can be diluted up to 20:1 depending on existing protection