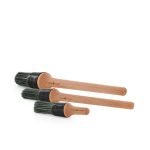 Luxury Hog Hair Detailing Brush ( S )
12,99 €
Luxury Hog Hair Detailing Brush
Description
Luxury Hog Hair Detailing Brush
Our Luxury Detailing Brushes are handmade in the UK and have carefully considered and thoroughly tested blend of Brazilian Natural Hog's hair and a brand new synthetic soft bristle.
The bristles are extremely gentle on surfaces without compromising on form and are chemical safe meaning your brush will withstand the rigorous tests you put it through detailing both interior and exterior surfaces.
The smooth, but solidly constructed ferrule will not scratch any surface and the natural waxed wooden handle is ergonomically crafted to feel comfortable in the hand for long periods of time.
These brushes are an essential component for any detailer or enthusiast to get into the hard to reach and delicate areas.
Alien Magic Engraved Logo
Hand Waxed to expose natural wood colour and repell water
Available sizes:
Small
30mm wide / 60mm Bristle ( Size 16 Mini )